Home » Rosarito Accommodations » Rosarito Camping » Rosarito Inn
ROSARITO INN
Rosarito Inn
Rosarito Inn offers luxurious condominium hotel suite accommodations to make your stay comfortable and secure. Our beach front condominiums are each fully and uniquely furnished, including all amenities. Whether just getting away for a weekend, coming to Rosarito for vacation, or the business traveler in need of corporate housing, Rosarito Inn is the perfect solution. For those that desire to live in luxury in Rosarito, renting a Rosarito Inn Condominium long term can be a very attractive alternative to buying a home or condo.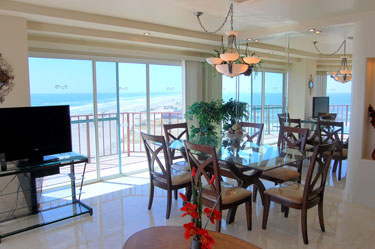 Inside the Condominiums
Rosarito Inn - Condos in Rosarito Beach
Rosarito Inn offers deluxe condominium hotel suites for rent in four separate condominium complexes, Oceana de Rosarito, Oceana Casa Del Mar, Oceana Plaza Suites, and our latest additon, La Jolla de Rosarito. Each condominium complex offers its own unique features and amenities – not all features or amenities are available in all units so please inquire. We also have office space for lease in Oceana Plaza in the heart of Rosarito Beach, Baja California. Rosarito Inn is pioneering the way by making our properties fully accessible for the handicapped. Oceana Towers and Oceana Plaza are now fully accessible by all.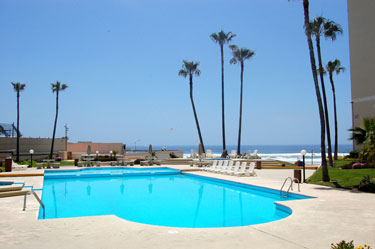 Luxurious Pool at Rosarito Inn
Wedding at Rosarito Inn
Make your dream wedding plans include Rosarito Inn. Make it that special day with the sun, the beach and the backdrop of the Pacific Ocean. Weddings at Rosarito Inn Rosarito makes a very attractive and affordable place to hold your wedding.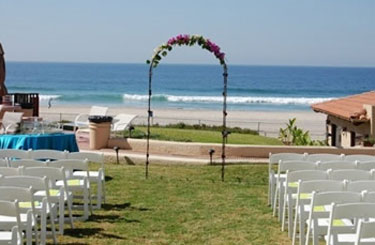 Wedding at Rosarito Inn
For Further Information Regarding Rates or Directions 

For reservations please call, write or e-mail us:
PHONE: (888) 849-4500
e-mail: info@rosaritoinn.com
Address: Rosarito Inn Blvd Benito Juarez #907-24 Playas de Rosarito, Baja California, Mexico 22710