Home » Rosarito Activities and Attractions » Rosarito Activities
Rosarito is located on the beach only a 1/2 hour drive from the U.S. border. The majority of visitors arrive for a weekend of eating, shopping, partying and/or relaxing on the beach. Rosarito Beach activities including surfing, horseback riding on the beach, volleyball, and even bungee jumping. Two different golf courses are in the area and some local ranches offer horseback riding in the hills and valleys surrounding town. Below is are some activities or things to do in Rosarito. For more information such as accommodations or to book a hotel in Rosarito visit our Rosarito Hotel Directory.
Sports and Outdoor Activities in Rosarito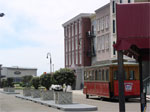 Attractions in Rosarito
There are so many places and things to see in or around Rosarito. Rosarito has several attractions both in town and nearby. Two must stops when visiting Rosarito are Puerto Nuevo and Foxploration, which is were the movie "Titanic" was fimmed.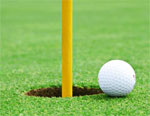 Golfing in Rosarito
Golfing has become one of the fastest growing and most important segments of Mexico's tourism industry. Currently Rosarito offers a world class 18 hole golf course located a couple of miles from town. Complete with a driving range, club house and even vacation rentals on the green...More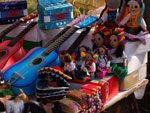 Shopping in Rosarito
Rosarito is one of the best places in Baja to shop if you like pottery, arts and crafts. The entire town is like a giant shopping area...More
Spring Break in Rosarito
Around March and April, Rosarito experiences a flood of college students (usually from the States) who travel to Rosarito to party: aka SPRING BREAK. For almost all of these students, drinking alcohol is usually the reason why they come to the Mexican Riviera of Baja. MTV and celebrities have made Rosarito a must stop...More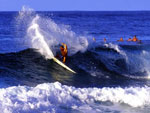 Surfing In Rosarito
Rosarito offers amazing surfing with far less crowds than in San Diego, depending on the tide the waves can be fast or hollow...More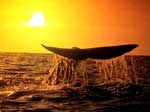 Whale Watching
In the fall, the California Gray Whale starts a 2–3 month, 8,000–11,000 km trip south along the west coast of the United States and Mexico. The animals travel in small groups. The destinations of the whales are the coastal waters of Baja California and the southern Sea of Cortez, which makes Baja a great place to view whales.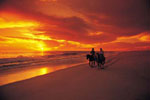 Rosarito Horseback
Horseback riding for all levels of ability is available at several stables in the Rosarito area. Guided tours on rented horses are available at some hotels...
More